Tempest News | October 2022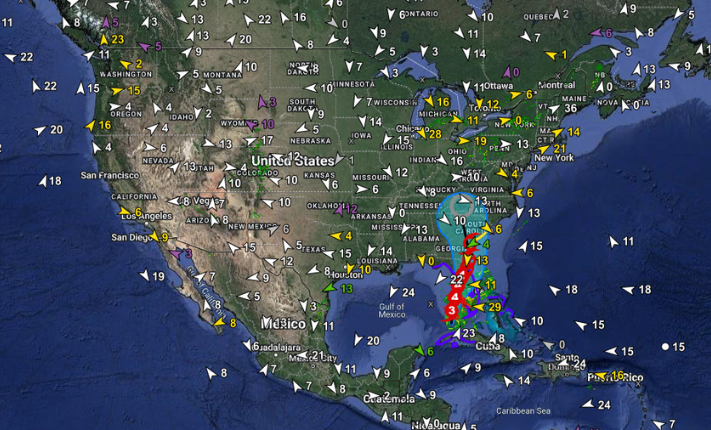 Map of Hurricane Ian from the TempestOne web app before the storm made landfall in Florida.

Quelled by dry air in the Atlantic, the current hurricane season had been uncharacteristically quiet before September. So how did Hurricane Ian gain enough momentum to turn much of Florida into what some residents are calling an "apocalyptic scene"? WeatherFlow-Tempest meteorologist Tony McGee walked us through Ian's formation and explained his team's role in tracking the historic storm.
IAN'S RAPID INTENSIFICATION
The National Hurricane Center (NHC) defines a rapidly intensifying storm as those that gain more than 35 mph in wind speed in less than 24 hours. Repeating a devastating pattern seen in recent years, Hurricane Ian gained monstrous strength in less than 24 hours as it moved over anomalously warm waters.
Rising levels of greenhouse gases prevent heat radiating from the earth's surface from escaping into space as freely as it used to. As a result, oceans have absorbed nearly 90% of this excess atmospheric heat, particularly in the top 700 meters of the surface. The Caribbean waters that fueled Ian were about 1.8 degrees Fahrenheit (1 degree Celsius) warmer than usual. These warming sea surface temperatures helped the storm "turbocharge."
After increasing to a Category 3 storm, Hurricane Ian tore through Cuba on Tuesday, September 26, 2022. The storm caused widespread blackouts and flattened homes, businesses, and critical agricultural infrastructure. While it was clear that the brief period over Cuba would not significantly disrupt Ian, the additional rapid intensification that occurred after it emerged over the Gulf of Mexico was at the upper end of expectations.
Top wind speeds (mph) recorded during Hurricane Ian.
On Wednesday, September 27, Hurricane Ian made landfall as a Category 4 storm on Florida's west coast, weakening to a tropical storm as it made its way across the state. Strengthened back to a Category 1 hurricane over the Atlantic Ocean, Hurricane Ian made landfall for a third time on Friday near Georgetown, South Carolina.
MONITORING HURRICANES IN REAL-TIME
The meteorology team at WeatherFlow-Tempest was monitoring Hurricane Ian as it approached Florida. Tony McGee remembers the growing concern that Ian was shaping up to be catastrophic for Florida. "While every storm is different, we knew Ian was going to be significant," explained McGee. "Our leadership team made the call to offer free access to the TempestOne platform to enable anyone to track the storm in real time. When public safety is at risk, that's a no-brainer."
Before Landfall:

Our meteorology team monitors the overall situation and prepares updates for our clients, keeping them informed on the general location and timing of expected impacts. This includes analyzing forecasts for possible sources of uncertainty in order to communicate a complete picture of the risk.

As Landfall Approaches: We more closely watch forecast trends, analyzing observational data from satellite, radar, and aircraft (hurricane hunters). This identifies any sudden changes in intensity or path but also helps us narrow the estimated landfall point and area of maximum winds more precisely. We communicate this to our clients but also share data to help coordinate with our partners, who are often out in front of the storm

deploying mobile weather stations

.
As Impact Occurs: My team monitors surface weather observations in the affected areas, noting the onset of specific threshold values (TS, Cat 1, Cat 2, etc) and reviewing data for quality control. We have a direct line of communication with the National Hurricane Center to send them any observations of note, and they also have access to the TempestOne platform.
After the Threat Subsides: With Hurricane Ian, this was a prolonged period - as the storm made landfall three separate times in Cuba, Florida, and South Carolina. This phase involves collating all available data, ensuring quality control, preparing reports, and providing summaries of the event.
IS CLIMATE CHANGE MAKING HURRICANES WORSE?
A recent IPCC report presented strong scientific evidence that tropical cyclones will continue to increase in intensity, resulting in more hurricanes reaching Category 4 and 5. Global climate models also predict that hurricanes will likely cause more rainfall and increased coastal flood risk due to higher storm surge caused by rising sea levels.
As researchers and scientists collect more data about hurricanes, there will be a greater understanding of what hurricane changes are human-caused global warming. The climate debate underscores the importance of accurate weather data to help present an unbiased look at the future, ensuring we are all better prepared.
---
- OTHER WEATHER NEWS -
BILLION DOLLAR DISASTERS
Hurricanes and tropical storms, cyclones, floods, wildfires, and even droughts can have disastrous (and expensive) effects on the communities and environments they impact. According to NOAA, 2021 was the third-costliest year for extreme weather events in U.S. history behind 2017 and 2005, when parts of the country were struck by hurricanes Harvey and Katrina, respectively. Read More >>>
PRESIDENT BIDEN VISITS PUERTO RICO
Still rebuilding after Hurricane Maria, which destroyed the electrical system and killed roughly 3,000 people in 2017, Puerto Rico experienced a setback after Hurricane Fiona made landfall last month. Fiona caused widespread landslides, damaged homes, washed-out bridges, and downed power lines as torrential rains flooded the island. President Biden visited the island earlier this week and promised more help. Read More >>>
hurricane season fast facts
The 2022 hurricane season has seen nine named storms already, with four reaching hurricane status and two being ranked Category 3 or above. Take a look at how early predictions have fared so far. Read More >>>
THE FUTURE OF CLIMATE ACTIVISM ISN'T WHERE YOU THINK
A bid for inter-generational climate activism was made at the climate conference in San Francisco late last month when 20-year-old climate activist Sophia Kianni highlighted the small reach that climate science research makes among the general public, especially older generations. Her solution to creating a more climate-conscious world for all generations? TikTok. Read More >>>
floods in Pakistan devastate farmland
Record-breaking floods have left millions of farmworkers across Pakistan struggling to salvage what they can from ruined summer harvests and damaged crops. In some of the hardest hit regions like the Sindh Province, floodwaters overtook entire villages as homes, buildings, and the crops that sustained the farmers and families living there were destroyed. Scientists are saying the rapid increase in floodwaters to the area comes from a combination of record monsoon rains and heavy glacier melt, both factors being intensified by our changing climate. Read More >>>
Back to: Newsletter