Tempest News | August 2022

The lightweight, two-bladed rotor concept being mounted at the National Renewable Energy Laboratory (NREL) as part of the SUMR Project.
Photo credit: Lee Jay Fingersh at NREL
Offshore wind turbines often stand nearly 500 feet above the ground and produce enough energy to power around 4000 homes in the US. But off the East Coast, increasingly devastating Atlantic hurricanes pose risks to the structures. That's something a team of researchers in Colorado is hoping to change. Lucy Pao is a Palmer Endowed Chair in the Department of Electrical, Computer and Energy Engineering at CU Boulder. She joined us to talk about making new innovations that could help make wind technology more hurricane resilient.
Q: HOW DO TYPICAL OFFSHORE WIND TURBINES OPERATE RIGHT NOW?
A: 99% or more of offshore wind turbines have a fixed bottom, where the turbines are built all the way down into the seabed. They are typically very large and feature three blades in front of the tower, so the wind comes through the blades first, and then they go around the tower.
Turbines are getting larger and larger due to some economies of scale since the cost of energy can be reduced by going to larger turbines. And of course, we want very efficient, low-cost wind energy in an effort to have more renewable energy adopted and to combat climate change.
Q: WHAT WOULD YOU SAY IS THE BIGGEST CHALLENGE WITH THOSE TURBINES?
A: As we get to larger and larger turbines, there are challenges because the blades are very long, and there is some flexibility in the blades, so they have to be controlled very well so that these turbines can last 20 or more years out in the field. There's a lot of analysis that goes into the designs to ensure that these turbines will be reliable, safe, and able to last for a long time.
Q: CAN YOU OUTLINE WHAT MAKES THE SEGMENTED ULTRALIGHT MORPHING ROTOR TURBINE DIFFERENT THAN TRADITIONAL TURBINES?
A: I was part of a large team on this project, which was called the SUMR (Segmented Ultralight Morphing Rotor) project, where we were designing 13-megawatt to 50-megawatt turbines, and we were exploring very lightweight rotor designs that are downwind of the tower. So imagine then the turbine is essentially facing the other way. The wind hits the tower and then goes through the rotor blades. And by having the turbine facing downwind, we can allow the blades to be lighter because, in general, the wind will be blowing the blades away from the tower instead of towards it. By going lighter weight, that's less material needed for the rotor, which is less capital cost, and we can also essentially allow the blades to flex and bend into the wind. So overall, there are fewer structural stresses in the blade in these high wind situations. And that was a concept that we explored in this project to see if downwind rotors could have advantages, especially at a large scale.
Q: HAS THIS NEW DESIGN BEEN TESTED?
A: One of the earlier designs that we had was a 13-megawatt scale, downwind, light, light rotor, and we actually gravo-aero-elastically scaled down that design. So that design at the 30-megawatt scale had 105-meter-long blades, and then we scaled it down to 20% scale.
We were able to field test those at the National Renewable Energy Laboratory at one of their Turbine Research platforms. This test site gets really strong wind conditions. Wind speeds have reached beyond 110 miles per hour and get very turbulent. We tested this lightweight two-bladed concept between 2019 and 2021, and the field tests did show that we can achieve that downwind load alignment to reduce the stress within the blades. We were able to show the downwind concept, lightweight rotor, and having the blades on the turbine over the last four years.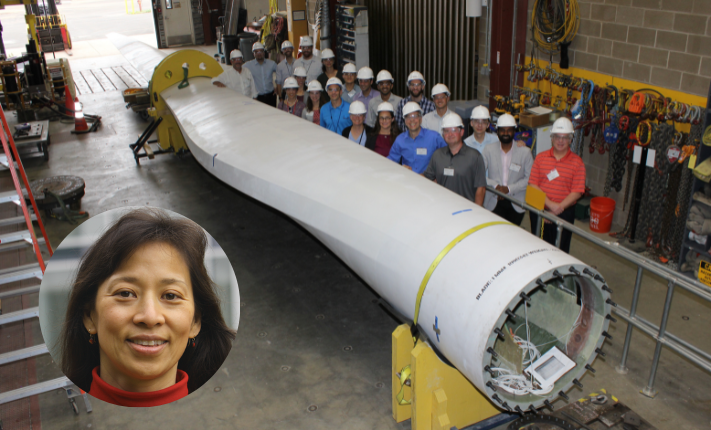 Lucy Pao (bottom left) and her team of researchers next to an ultralight morphing turbine rotor. The original blade design called for a 13 Megawatt turbine measuring 105 meters long. The blade shown is a 20% scale measuring 21 meters long.
Q: I READ IN ANOTHER ARTICLE THAT YOU WERE BIO-INSPIRED BY PALM TREES. SO IS THAT WHERE THE WHOLE DESIGN IDEA TOOK SHAPE?
A: Palm trees can often survive hurricanes, right? And they naturally kind of bend and move with the wind. And they survive these very strong tropical storms, whereas large oak trees, while they seem really strong, can be uprooted in hurricanes. And so we wanted to go with that lighter-weight, palm tree design.
Q: I LOVE THE IDEA BEHIND THAT. YOUR RESEARCH GROUP HAS BEEN WORKING WITH THE UNIVERSITY OF OLDENBURG IN GERMANY TO ASSESS SENSORS THAT CAN SCAN WIND CONDITIONS AHEAD OF THE TURBINE TO MEASURE THE WIND COMING IN ADVANCE OF THE CONTROLLERS AND RESPOND ALMOST BEFORE IT HAS HIT THE TURBINE. THIS SOUNDS LIKE IT HAS APPLICATIONS BEYOND JUST MAKING THEM MORE HURRICANE RESISTANT, BUT ALSO MAKING THEM MORE EFFICIENT. IS THAT ALSO A GOAL?
A: Yes, the way that wind turbines are usually controlled is they use feedback sensors. So they're sensing the rotor speed and such and responding to the wind condition. So usually, if there's a gust that comes through, you don't know that that gust has come through until you see its effect on the rotor. But by using these forward-looking sensors, measuring the wind speeds ahead of the turbine for the wind impacts the turbine, they pair the wind turbine to better brace for, for instance, various gusts. And so the idea is to be able to operate the turbine more effectively knowing the wind conditions that are coming.
q: in areas with a lot of wind variability, how does that affect most turbines? do they actually turn off if there's too much wind or on when there's not enough?
A: Yeah, so if the wind speeds are too strong, the turbines will be shut down, primarily just to reduce structural loading. In those situations, once wind speeds get too high, you're pitching the blades so that you're letting as much wind go by, and then the brakes are also put on. So you're essentially just trying to have the turbine brace itself through a storm. On the opposite side of the spectrum, if there's not enough wind, then the turbine also will brake.

q: as our climate HAs evolvED, ENERGY tech has HAD to evolve with it. obviously, wind turbines today look much different than they did decades ago. so, where do you see wind technology in 50 years?
A: I think in 50 years, there will be a lot more offshore wind, in particular, floating offshore wind turbines, this is where wind turbines are, perhaps further out, and in particular over deep water. And once you get into deep enough water, then it doesn't make economic sense to have the turbine drilled all the way down to the ocean floor. Basically, they're on these floating platforms, and the entire turbine can move. And so then the controls involved in terms of keeping that turbine upright and also trying to maximize that power production gets more complicated.
MORE WEATHER NEWS
meet heat wave zoe
Seville, Spain, has unveiled a new heat wave ranking system that includes using a naming system for the most severe waves in a similar manner to hurricanes. While the three-tiered system is the first of its kind to include a naming system, other countries as well as some U.S. states are following suit and launching systems of their own. Each tier is Seville's system has specific criteria ranging from daytime and nighttime temperatures, humidity, and more. This year, names will move in reverse alphabetical order beginning with Zoe. Next up, Yago, Xenia, Wenceslao and Vega. Read More >>>
HUMANS AREN'T AS HEAT RESISTANT AS WE THOUGHT
As heat waves and record-breaking high temperatures continue to swelter across parts of the world, experts are learning that humans might not be as resilient to surviving extreme heat as previously thought. Human exposure to extreme heat has tripled globally since the early 1980s, and we're already seeing an increasing toll from the soaring temps like heat stroke or exhaustion. Scientists estimated a theoretical heat stress limit at a wet bulb temperature of 35 degrees Celsius in 2010, but more recent studies are suggesting the limit may actually be closer to 30 degrees and even lower in hot, dry conditions. Read More >>>
TEMPEST NETWORK CAPTURED EUROPEAN EXTREME HEAT WAVE
Many European countries experienced record-high temperatures as intense heat waves scorched much of the continent during the final days of July. The Tempest Network tracked the heat wave as it swept across Europe, bringing record-breaking temperatures and a host of weather-related incidents. Read More >>>
HEATWAVE GARDENING NO-NO'S
Normally the sunlight and warm temperatures of the summer are great for gardens, but extreme heat can end up being more harmful to a plant than helpful if not acted on correctly. According to an Oregon State University study, plants can begin showing adverse signs to heat at just above 90 degrees Fahrenheit. Leaving plants in the sun, watering at the wrong time, or pruning back plants are just some of the ways that you can inadvertently harm your garden during a heatwave. Read More >>>
OUR TOP 10 FAVORITE TEMPEST INTEGRATIONS
You've unboxed and set up your Tempest and are loving the detailed weather insights but wonder how you can get more from your data. By using integrations with your Tempest, you've got a world of possibilities to help make your home more efficient. Use and create powerful displays, customize your weather notifications, and even create fun and modern spaces that respond to the actual weather outside your house! Tempest integrations can even save you time, money, and energy while helping you maintain your home and yard. Read More >>>
Back to: Newsletter